The Native Lab's Monocoque Design course is a unique course on the entire design process going from business case to pre- and post-processing of a composites made monocoque. In different sessions a real-life monocoque is designed and used as example to explain all the stages and their challenges, including concept design, primary and secondary functions, DFMEA, Detail Design, Structural Analysis, among others.
In order to deliver a high-quality course, The Native Las has picked some of the best engineers of Managing Composites. Lluc Marti (CEO), Alejandro Batan (CPO), Marc Oliva (Lead Designer), Eneko Angulo (COO) and Ignacio Carranza (CAE Manager), who have gathered their experience working with composites and monocoques at companies like Koenigsegg, McLaren, Prodrive and Hyundai Motorsport.
The course is taught online and live, meaning that it is instructor-led. This allows for participants to ask the trainers directly about any doubts they have, leading to interesting group discussions and enriching the entire course. In total there will be 8 sessions and in case students cannot participate live they will have access to the recording of the live session.
Sessions: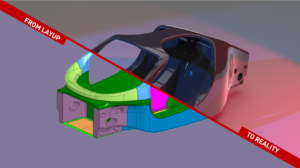 Introduction and Basics of Monocoque Design
Packaging and Primary Functions
Concept Design and Secondary Functions
DFMEA
Detail Design
Structural Analysis
Post-Process
Final Q&A Session
Participating in the course gives access to the alumni network that includes job offers and discounts apart from a course certificate. The next edition will be starting on the 20th of April 2022!