Madrid, 28th of April 2022 – Managing Composites, the engineering company specialized in composite materials projects, today announced the close of a 1,5M€ financing round by Bouwen Sistemas Industriales, holding of Itera Mobility Engineering, Hidragrup and Sinfiny.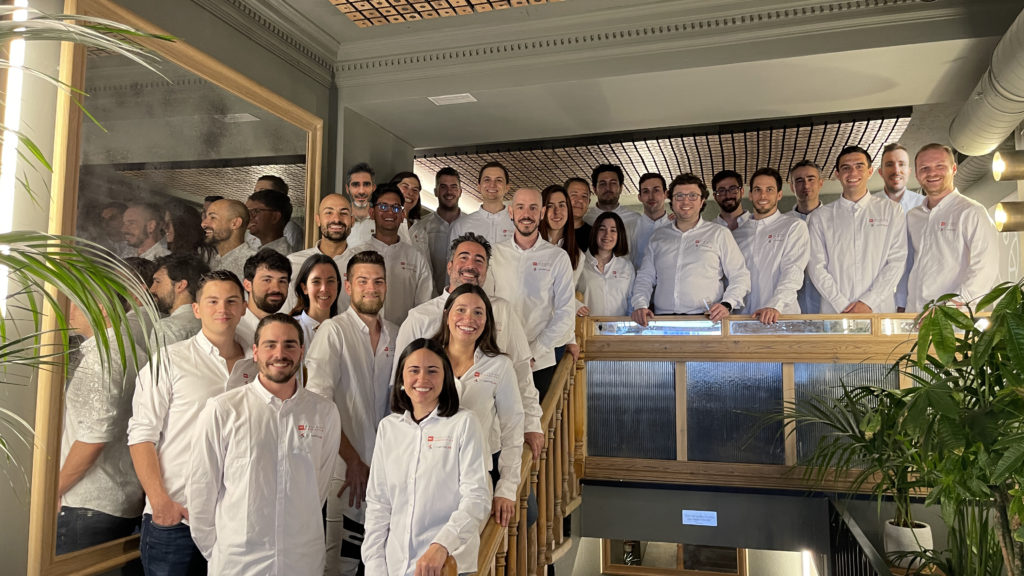 The investment will enable Managing Composites to continue providing best in class engineering composite services while facing bigger challenges, boosting the lightweighting transformation of traditional industries, as well as, opening new markets. The company is already providing services to world-class hypercar and automotive brands, electric airplanes, space applications, underwater robots and sports material. In addition, the investment will allow the company to keep on transforming some of the services and R&D activities into products. Managing Composites projects portfolio already have The Native Lab, a composites EdTech company and two R&D projects close to be commercialized (SaaS for automatic defect analysis and a revolutionary reusable and full recyclable resin) as own initiatives.
"We are thrilled by Bouwen's support, who sees the composites growing market as a one of the future key technology drivers in all the new mobility scheme" said Lluc Marti, founder and Managing Composites CEO. "The need of experts in composites has never been greater, especially with the need of lightweighting in new transportation solutions. This is the time for Managing Composites to continue growing and realize our vision of spreading composites word while making it more sustainable, affordable, and technically accessible."
The use of composites and its knowhow, especially outside the aerospace world, has been developed privately in workshops/factories in a learning by doing process. For that reason, the companies that have the know-how are hesitant to share it. Managing Composites' founding team has been involved throughout the complete value chain and understands that sharing the knowledge is key to help developing the industry.
The Managing Composites adventure started at the end of 2019 and since then has grown with pure bootstrapping, achieving 1,3M€ of turnover in 2021. The company plans to exceed 2,2M€ in 2022.
Bouwen Sistemas Industriales, is a holding of industrial companies. They have a well stablished engineering company in the automotive and railway industry, Itera Mobility Engineering, a hydraulic presses and industrial equipment manufacturer, Hidragrup, and one company specialized in the automatization of industrial processes, Sinfiny Smart Solutions. This way, Bouwen covers the whole value chain, starting with the conceptualization and development of products, going through the construction of machinery, the design, automatization, and set-up of processes and ending with on-site engineering support during serial life.
Bouwen started its journey back in 2003 and since then, the company has kept on growing, both organically and inorganically, incorporating companies that complemented their capabilities. Bouwen targets 20M€ sales for 2022 and 200 employees, that includes the extension of the operations to North America.
What started as a collaboration project between Managing Composites and Itera Mobility Engineering, ended one year later with Bouwen (Itera's owner) becoming a shareholder in Managing Composites, trusting on the current management team, and understanding what can be delivered with further resources.
"For Bouwen has been a strategic investment. Given the increasing need of the main OEMs in keep on reducing weight, especially for the electrical vehicles and our aim on always offering innovative solutions, we consider the incorporation of Managing Composites into our group can be a perfect complement to the services we are providing to our current and future customers. Being together will allow synergies among the different companies in our portfolio and facilitating making available composites technologies developed in niche sectors, today ready to be implemented in big OEMs and TIERs" says Héctor Corral, Bouwen CEO.
"We were not looking for investment. Nevertheless, after some months of project meetings, possible synergies with other companies from the holding, both sides realised that it will be a win-win situation. We will have the capacity to grow faster with the unevaluable experience from Bouwen who grew from scratch an engineering company to become a market reference. And for Bouwen, we are opening doors to a new engineering and industrial fast-moving market" says Alex Batán, CPO at Managing Composites.