In today's aerospace industry, the consumption of composite materials has increased to more than 50%. Composite materials have been used in the aerospace industry in primary and secondary structural parts, including rocket motor casings, radomes, antenna dishes, engine nacelles, center wing boxes, aircraft wings, pressure bulkheads, landing gear doors, engine cowls, floor beams, tall cones, flap track panels, stabilizers and so on.
The extraordinary growth in the use of advanced composites (especially fiber reinforced plastics) is justified by their impressive features and properties, such as amazing strength-to-weight and stiffness-to-weight ratios, high static strength, good fatigue/damage resistance, excellent dimensional stability under a wide range of temperatures, and many others.
This graph shows how composite usage in aircraft has increased over the years. How high can we get? Will we ever reach 100%? Let us know your opinion in the comments!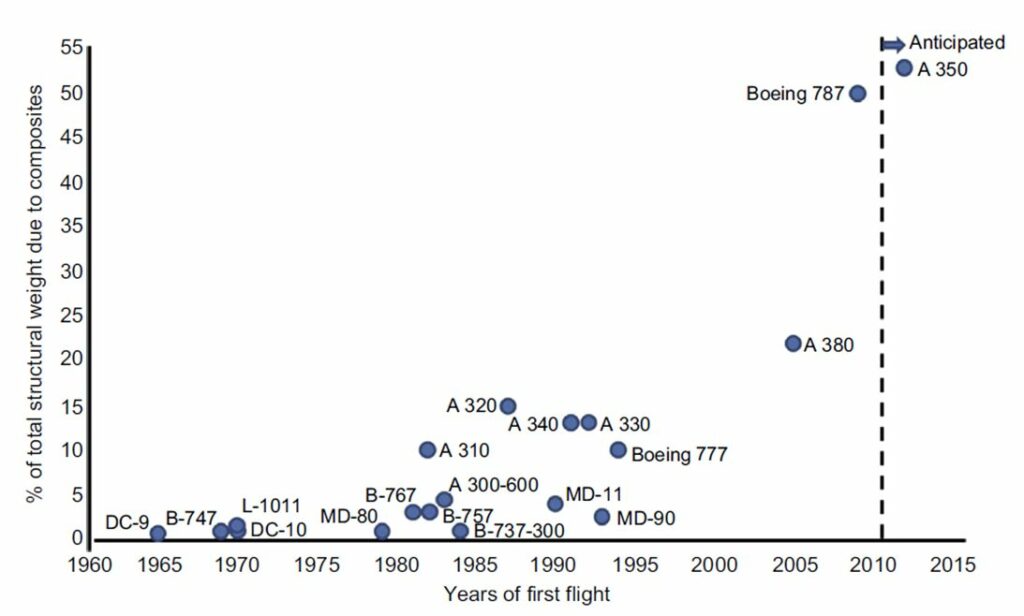 Bibliographical Reference:
Advanced Composite Materials for Aerospace Engineering – Processing, Properties and Applications, Page 2.